November 6, 2018
The Fun Begins with the Classic DECA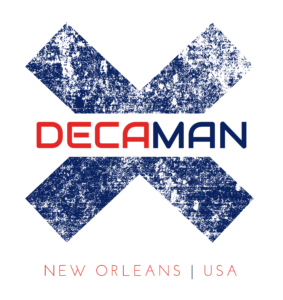 24 mile swim,
1,120 mile bike,
262 mile run.
About the Race
Bringing the DECA to the US has been a personal passion for the last 5 years of Wayne Kurtz and Steve Kirby. Through all the hurdles and challenges, we are excited to host all of our ultra triathlete global family to New Orleans for the races. Our goal is to make this a safe and thoroughly enjoyable experience for the athlete, crews and spectators. Well maybe it won't be all enjoyable for the athletes as they grind through day after day during the run!
Starts November 6, 2018 - Finish November 19, 2018 (Note: Must finish in 13 days!)

Starts November 8, 2018 - Finish November 18, 2018

Starts November 12, 2018 - Finish November 18, 2018

Starts November 13, 2018 - Finish November 18, 2018
Race Course Info
New Orleans, Louisiana – Fontainebleau State Park
The Village area is where most activities will take place, including the main timing area for the bike and run. The dining area is a few feet away with sleeping accommodations, restrooms and crew shelters. The Deca swim is in a 50-meter pool at the University of New Orleans. All other swims will be at the park in Lake Pontchartrain. The bike is an 8-mile out and back and the run is one mile (1/2 mile out/1/2 mile back) gravel/grass trail.
Check the Q&A section for more information.
Registration information:
Entry Fees
Classic DECA and 1×10 DECA – $2,200
Quintuple Classic and 1×5 – $1,400
Entry Fee Includes
Athlete attendance to Introduction of Athletes party, food supplied 24/7 during race, transportation to and from the airport (including crew), shuttle to the University of New Orleans for (Classic DECA swim),  post race award banquet, shirt and finisher awards.
Additional Expenses
Per day cost for crew meals
Per day cost for athlete/crew lodging at park
Per person crew cost for award banquet
We are consistently posting updates in our FACEBOOK PAGE!